Product classification:WHAT WE DO> Citrimore®>
Naringenin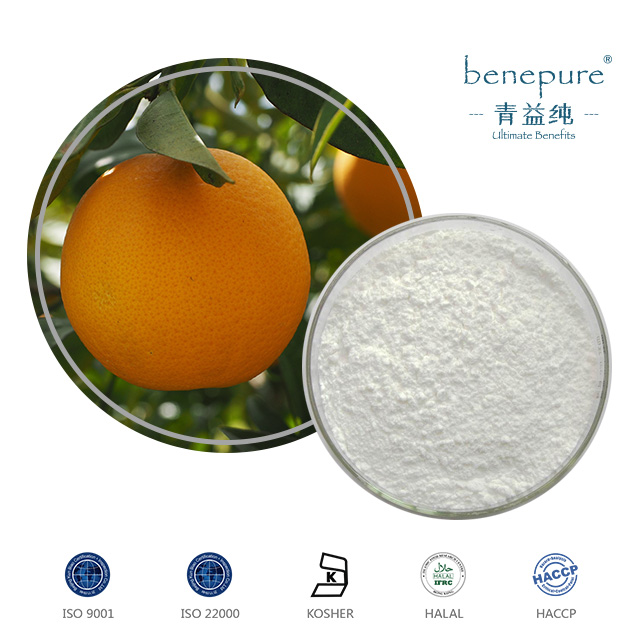 Product Name: Naringenin
Synonym: Naringenine, Naringetol
CAS Number: 480-41-1
Specification: 95%, 98%HPLC
Raw material main source: Sichuan, Jiangxi, Zhejiang, Guangxi, Hunan, etc.
Appearance: White fine powder
Botanical Source:
Citrus grandis L.
Description:
Naringenin is a kind of natural flavonoid compounds, widely existing in the pomelo of rutaceous plants. It mainly comes from the enzymolysis of naringin in white needle crystal, and is widely used in food, nutraceutical and cosmetic industries.
In Food and Flavors:
1. It can enhance the sweet taste of a sweet-tasting substances, and reduce the amount of sucrose used.
2. Improve unpleasant aftertaste, and improve the overall taste of food.
3. Added to food as natural preservatives.
In Nutraceutical:
1. Has a strong antibacterial effect.
2. Has a significant inhibition of the process of inflammation.
3. Has a strong cough expectorant effect.
4. Significant reduction and inhibition of blood cholesterol levels and liver steroid levels
In Cosmetics:
1. It can inhibit the growth of acne pathogens and activity, and can be used for the prevention and treatment of acne disease.
2. Neutralize free radicals which may damage cells, and has a good anti-oxidation effect;
3. Can prevent the aging, dry, wrinkles of skin and whitening the skin when used in combination with vitamin A.
If you want to know more, email to: info@benepure.com or call us:+86 28 86799990 or send
online message.
Benepure is pleased to serve you.
Previous:
Limonin
Next:
Hesperidin