Your position:
Home
>
Company News
The 9th Korea World Pharmaceutical Ingredients Exhibition (CPHI Korea) is underway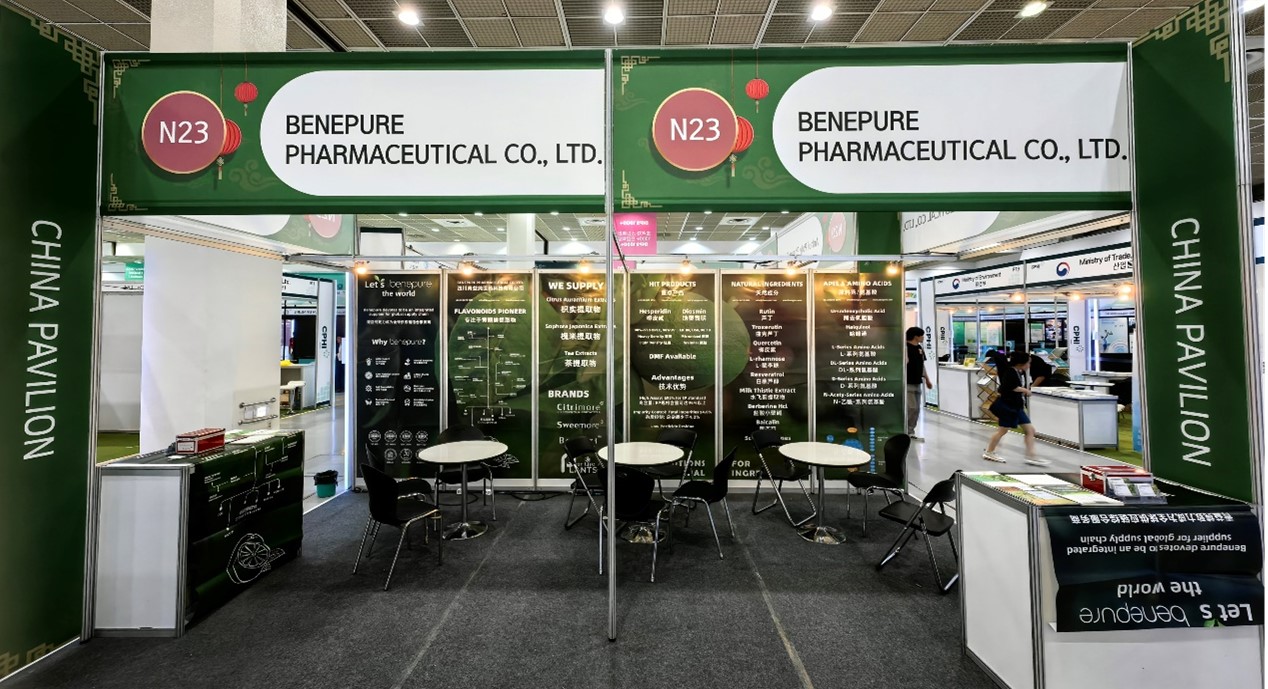 Time: August 30 to September 1, 2023
Venue: Korea World Trade Center Seoul Convention Center, 513 Yeongdong-daero,Samseong 1-dong, Gangnam-gu, Seoul
Booth no: N23
CPHI Korea 2023 will be held at the Korea Trade Center Seoul Convention Center from August 30 (Wednesday) to September 1 (Friday). In the next 3 days, Benepure welcomes you to participate in exhibitions, conferences and seminars.
August 30 (Wednesday) 10:00-17:00
August 31 (Thursday) 10:00-17:00
September 1 (Friday) 10:00-16:00
CPHI Kore is a dynamic meeting place where pharmaceutical suppliers, buyers and policy makers gather for three days of non-stop business. Exhibiting companies showcased products for the entire pharmaceutical supply chain: from raw materials and contract services, to machinery and biopharmaceuticals. The event conference will last for three days and give you an in-depth understanding of the Korean pharmaceutical market, covering its latest trends, challenges and opportunities. In a safe, comfortable environment, you can meet new partners face-to-face, network with peers, and seek innovative pharmaceutical solutions.
CPHI Korea will be organized according to Informa's health and safety standards. As the world's leading event organizer, Informa has developed a detailed set of enhanced measures to provide the highest level of hygiene and safety at events, providing assurance for everyone to participate in the exhibition in a safe and controlled environment.
CPHI Korea is the largest and most influential pharmaceutical raw material exhibition in South Korea. Exhibitors come from many countries and regions around the world. At that time, many well-known brands will appear, displaying cutting-edge products, technologies and innovative solutions. With the combination of "exhibition + conference" trade docking, the exhibition invites relevant governments and experts from the industry to participate in the exhibition, and strives to deeply expand the Korean pharmaceutical market for exhibitors in an all-round way.
Exhibit classification
ICSE - includes clinical trials, contract customization, biotechnology, IT, component analysis services, packaging services and logistics services.
P-MEC - includes analytical equipment, automation and robotics, batching equipment, dust-free equipment, hygiene and safety products, instruments, laboratory equipment, machinery, packaging equipment and packaging products, factory equipment, automation, handling equipment, RFID, tablets and capsules.
BioPh - focuses on biotechnology and related fields, providing an ideal platform for biopharmaceutical companies, drug R&D companies, pharmaceutical manufacturers and scientific research institutions to establish new partnerships and discuss the latest biomedical and technology trends.
Hi - includes natural, healthy, functional ingredients, functional food additives, food technology, equipment and OEM.
Benepure is a pharmaceutical technology company located in China, focusing on the research and production of natural plant extracts. We are dedicated to providing you with answers to all your questions and professional opinions on natural plant extracts.
As a healthy and natural choice, natural plant extracts are widely used in medicine, beauty and health care and other fields. Benepure's team consists of a group of experienced professionals who have expertise and technology in the research and development of natural plant extracts.
We are committed to providing high-quality natural plant extracts and ensuring the purity and safety of our products through strict quality control procedures. We have modern production facilities and laboratories to ensure product stability and consistency.
If you have any questions or need further information on a specific natural plant extract, our team will be happy to work with you to provide a solution tailored to your needs. We will provide product samples and detailed product information according to your requirements to help you make the best choice.
Please feel free to contact us and let Benepure provide you with professional service and support in the field of natural plant extracts. We look forward to working with you to jointly develop and promote the application of natural plant extracts.
The 9th Korea World Pharmaceutical Raw Materials Exhibition (CPHI Korea) will last for three days, and the activities include professional speeches and on-site lectures, fully demonstrating the role of CPHI Korea in promoting international and domestic business exchanges, and providing mutual exchanges and cooperation for Chinese and foreign pharmaceutical industries , The exchange and communication between enterprises has built a platform, which provides a wealth of information and business opportunities for enterprises to expand new business and develop new markets. The centralized display of such exhibition activities has injected new impetus into the development and innovation of the industry and promoted the development of the industry. Cooperation and exchanges between domestic and foreign pharmaceutical companies have opened a new chapter. Benepure sincerely invites you to participate again!
Benepure Pharmaceutical Technology Co., Ltd. is a comprehensive service brand in the supply chain of the global pharmaceutical and health industry. It focuses on the research and development, production and sales of plant extracts, APIs and intermediates, dietary nutrients, amino acids and their derivatives, etc. Committed to the diversified development of the health industry, we provide high-quality products and services to customers in global food, beverage, health care products, medicine, cosmetics and other industries.
Benepure Pharmaceutical Technology Co., Ltd.'s core products are Citrus aurantium extracts and their derivatives, such as hesperidin, diosmin, naringin, hesperidin methylchalcone, etc. After years of continuous exploration, the product range has expanded to cover a series of superior products such as Citrus aurantium, Sophora japonica, green tea extract, natural sweeteners and protected amino acids. Mainly engaged in export business, currently its customers are in dozens of countries around the world.
Benepure integrates procurement, production, quality inspection, sales, research and development, and marketing. Strict management and strive to provide customers with professional services.
Quality is the foundation of products and the lasting power of the company's development. The factory has passed ISO, HACCP, Halal, Kosher and other certifications; International business standard setter; already has certain market competitiveness.
Next:
Awarded New Hith-Tech Enterprise