产品分类:WHAT WE DO> Citrimore®>
Hesperidin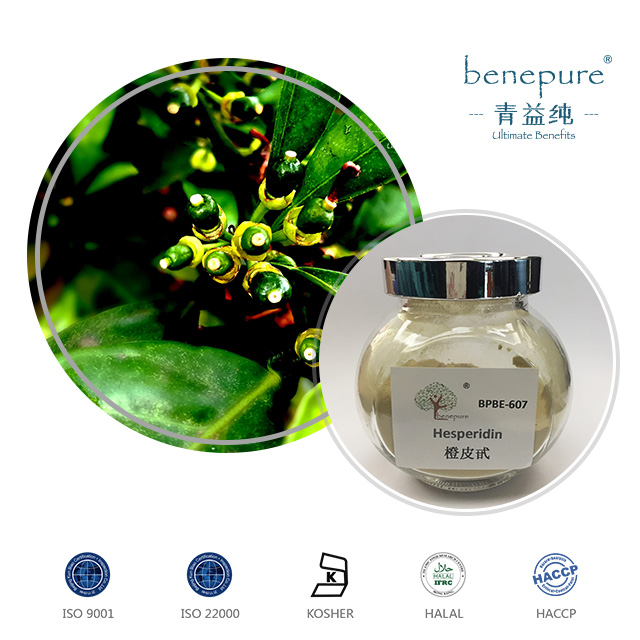 Product Name: Hesperidin

CAS Number: 520-26-3

Specification: 90%, 92%, 95% HPLC, 98% UV, Micronized, DC

Raw material main source: Sichuan, Jiangxi, Zhejiang, Guangxi, Hunan, etc.

Appearance: Off-white to pale yellow fine powder

Botanical Source: Citrus Aurantium L.

Applications:

Hesperidin is a flavonoid found in the rinds of citrus fruits (such as oranges, lemons or pummelo fruits). The peel and membranous parts of these fruits have the highest hesperidin concentrations, especially in immature little citrus fruits. It is one of the flavonoids that give citrus fruits their color and taste.

The flavonoid hesperidin is a flavanone glycoside (glucoside) comprised of the flavanone (a class of flavonoids) hesperitin and the disaccharide rutinose. Flavonoids are a type of polyphenol, which are antioxidants found in plants and are essential to human health. Besides its antioxidant properties, hesperidin can also be used as an anti-inflammatory, anti-allergic, hypolipidemic, vasoprotective, and anti-carcinogenic compound. It seems to reduce the symptoms of allergies and hay fever by inhibiting histamine production in the blood.

Hesperidin, in combination with a flavone glycoside called Diosmin, is used in Europe for the treatment of venous insufficiency and hemorrhoids.