Product classification:WHAT WE DO> Benutri®>
Epimedium Extract(Horny Goat Weed Extract)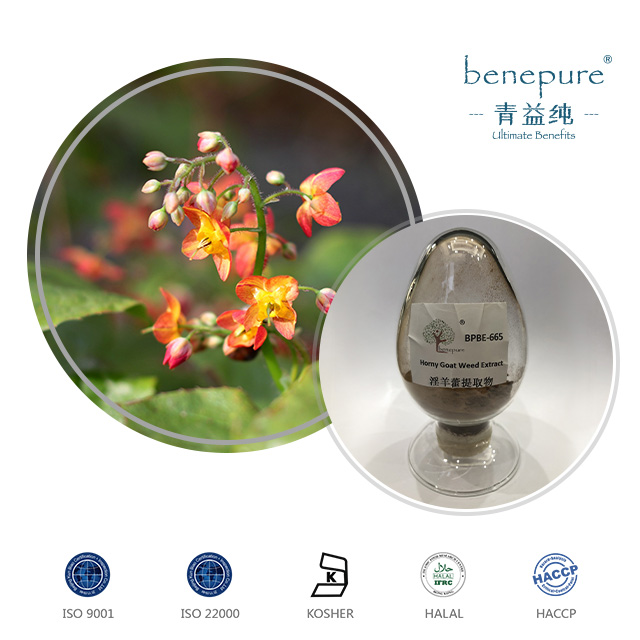 Product Name: Epimedium Brm Extract
Synonym: Horny Goat Weed
Specification:Icariin 10%-40%
Icariins 10%-50%
Test Method: HPLC
Molecular Formula: C33H40O15
Molecular Weight: 676.66
CAS: 489-32-7
Constitutional Formula:
Epimedium Extract(Horny Goat Weed Extract)
Efficacy: Anti-rheumatism,Impotence
Botanical Source: Epimedium brevicornum, Epimedium sagittatum
Sources and Habitat:
Epimedium herb or, as it is known throughout the herbal marketplace "Horny Goat Weed" is a small ground bearing shrub with broad heart shaped leaves that resemble ground ivy.
Commonly found in Asian medical communities and street side markets, it is often referred as a "Yang Tonic" producing a warm almost euphoric effect on the body.
Not much study has been documented and because of recent popularity we can expect more investigation and coverage of this unique botanical. Epimedium is commonly used as an aphrodisiac and assists in relieving sexual dysfunction in both men and women.
Indications and Uses:
It is invigorative, tonic and anti-rheumatism.
It stimulates the production of androgen (sexual) hormones with no found effect on estrogen.
It has been applied to men suffering from impotence and low sperm count. And has been consumed by women who suffer from a decreased sexual motivation.
Safety Concerns:
High dosages of horny goat weed may cause side effects in some people, which would include rapid heart beat, restlessness, and insomnia. Do not take horny goat weed if you are taking heart medicines.
Dosage Information:
The suggested dosage is 3-9 gram in water extracting form according to Chinese Pharmacopoeia, 2005 edition. The suggested dosage for other forms of preparation are not available, but high dosage of up to 30 gram a day (80% concentrate water extracts and 20% powder form) was seen in a clinical study of 1000 cases of Chronic bronchitis treatment, the study shows a 74.6% effective rate without report of adverse effects.
However, it is strongly suggested that when use alone, any dosage that is over 9 gram in water extract form or over 3 gram in powder pill form should be applied in a closely administered environment.