Product classification:WHAT WE DO> Sweemore®>
Luo Han Guo Extract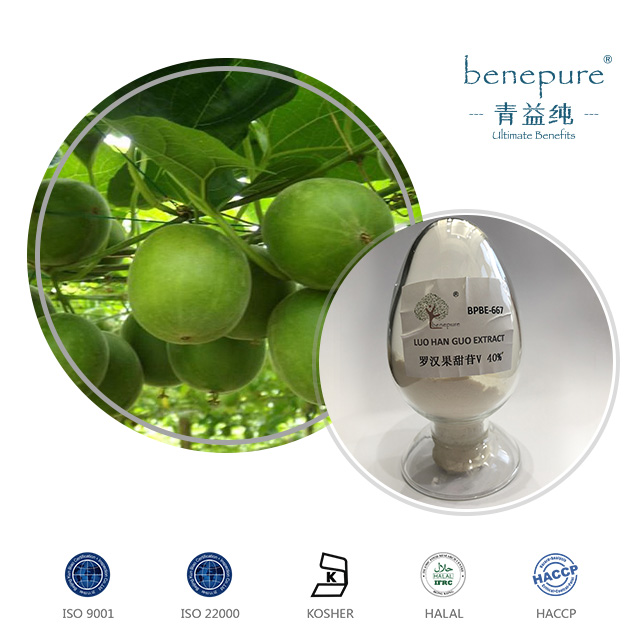 Product Name:Siraitia grosvenorii Extract
Botanical Name: Momordica Grosvenori Swingle
Part of Used: Fruit
Specification:
10:1,15:1,20:1
7%,30%Mogrosides
80% Mogrosides/ 25% Mogroside V
90% Mogrosides/30% Mogroside V(Yellow Powder)
90% Mogrosides/30% Mogroside V(White Powder)
40% Mogroside V(Yellow Powder)
40% Mogroside V HPLC (White Powder)
50% Mogroside V HPLC
Active Ingredient: Mogroside V
CAS No.:89590-95-4
Mol. Formula: C60H102O29
Mol. Weight: 1287.43
Structural formula:
Luo Han Guo Extract
Description:
Luo Han Guo (Siraitia grosvenorii, or Momordica grosvenorii), that is mangosteen of cucurbitaceous family, the ripe fruit of a kind of perennial grass liana. There have been thousands of years that Chinese have known to soak the Luo Han Guo in water as a drink. Traditional of Chinese medicine as well applies it to cure disease, such as high blood pressure, pulmonary tuberculosis, asthma, gastritis, whooping cough, acute & chronic tracheitis and acute & chronic tonsillitis, etc. It is proved by recent researches that mogrosides is the main effective medical components. Luo Han Guo fruit and its extract are dual-use in therapeutic and health products. At present, Luo Han Guo is allowed to use as a food additive in these countries: Japan, Korea, Thailand, Singapore, Britain, and China, etc.
Advantage:
· GRAS
· Non-GMO
· Allergen-free
· Kosher/Halal certified