Product classification:WHAT WE DO> Citrimore®>
Diosmin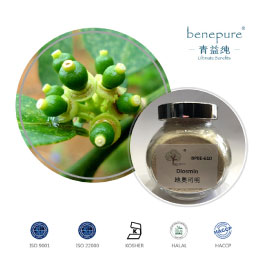 Product Name: Diosmin
Synonym: Diosmetin-7-O-Rutinoside
CAS Number: 520-27-4
Specification: EP, BP, USP, Micronized, DC
Raw material main source: Sichuan, Jiangxi, Zhejiang, Guangxi, Hunan, etc.
Appearance: Greyish-yellow to light yellow hygroscopic powder
Product Source:
Hesperidin
-
Citrus Aurantium L.
Applications:
Diosmin is a semisynthetic flavonoid molecule derived from citrus d (modified hesperidin).
The product is used for treating various disorders of blood vessels including hemorrhoids, varicose veins, poor circulation in the legs (venous stasis), and bleeding (hemorrhage) in the eye or gums. It is often taken in combination with hesperidin.
Diosmin is currently a prescription medication in some European countries, and is sold as a nutritional supplement in the United States.