Product classification:WHAT WE DO> Troxepure®>
Troxerutin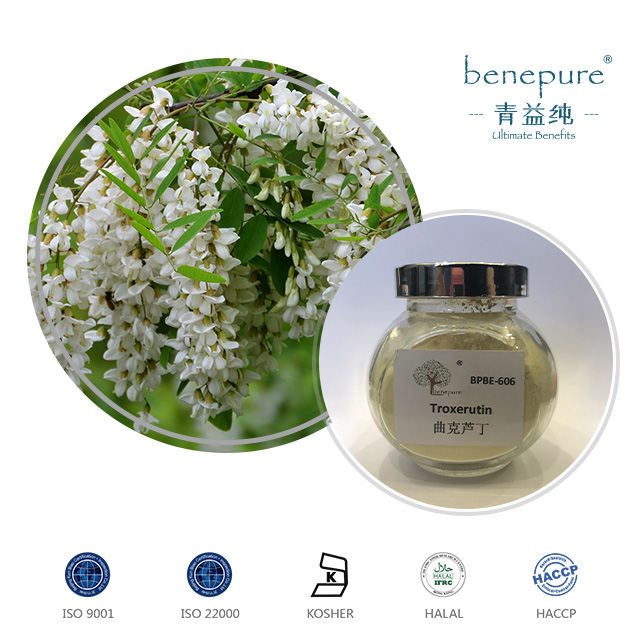 Product Name: TroxerutinTroxerutin
Synonym: Hydroxyethylrutin, Vitamin P4
CAS Number: 7085-55-4
Specification: DAB1999,EP9
Appearance: Yellow and greenish-yellow powder
Botanical Source: Sophora japonica L.
Applications:
Troxerutin also called Venoruton,Vitamin P4,is classified as bioflavonoid. It is a derivate of Rutin through hydroxyethylation, used directly as API. It can be used to the treatment of varication, thrombosis and cerebrovascular disease, thrombosis has better water-solubility and drug effect than Rutin.
Troxerutin is useful in inhibiting aggregation of red blood cells and platelets, preventing thrombogenesis, increasing blood oxygen content and promoting neovascularity at the same time. Thereby, it can improve microcirculation and increase collateral circulation. It can protect endothelial cells, against vascular lesion from serotonine 5 and bradykinin. It can also build up capillary resistance, lower capillary permeability, so that to prevent edema caused by increasing capillary permeability. For more functions, such as anti-radiation lesion, anti-inflammatory, anti-allergic, anti-ulcer, etc.
If you want to know more, email to: info@benepure.com or call us:+86 28 86799990 or send
online message.
Benepure is pleased to serve you.
Next:
Quercetin